The sixth annual Hacks with Friends welcomed 123 IT and technology professionals and advocates (including 4 students) from across Michigan IT to the Ross School of Business. Attendees collaborated across 14 teams to create unique and amazing hacks related to research storage; parking; diversity, equity, and inclusion; sustainability and others. The 2020 Hacks with Friends event had the most diverse representation of units and groups from any previous year with 22 different affiliated groups involved from three of the four university campuses. Each hack was built from scratch to completion during the two-day event, March 5–6, and presented for final judging on the second day. Judges praised all the teams for the viability of what they created and for the effort behind the solutions, for not only finding a single solution but envisioning how the solutions could scale in the future.
Welcome & Opening Remarks by Dr. Ravi Pendse, VPIT and CIO
Remarks by Dr. Andrew Rosenberg, CIO for Michigan Medicine
2019 HWF Winner: ContaMiNot - One Year Later
Presentation by project leader - Jule Krüger
The 2020 Hacks with Friends winners…
Team 9: Mapping Inclusivity
1st Place Judges Award & Broadest Reach Award (Public Voting)
Team Members: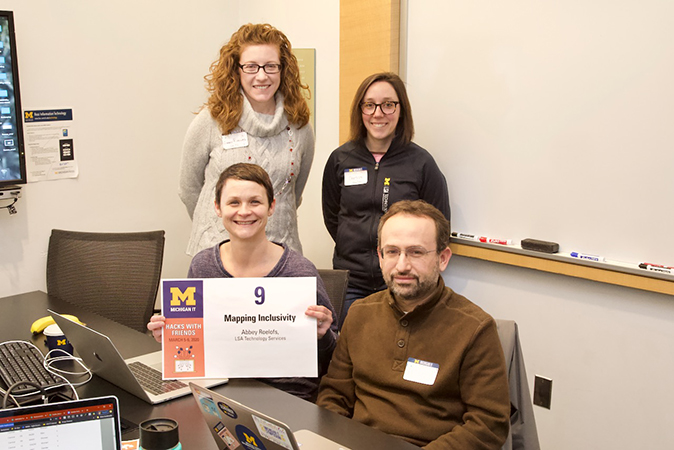 Crystal Borgman, ITS
Caitlin Dickinson, LSA Technology Services
Husnu Kaplan, HITS/Michigan Medicine
Abbey Roelofs, LSA Technology Services - Pitch Leader
The current online Campus Map site doesn't include information on accessible or gender-neutral restroom locations; this information is in text and Google map format across various University sites. We'll use the existing information and ArcGIS tools to make a mobile-friendly web map and navigation application to easily find the nearest accessible and/or gender-neutral restroom on campus and explore ideas for other resources that could be added in the future.
Team 9 Videos: 3-Minute Pitch • 10-Minute Presentation to Judges
Team 16: Hands Free Ticket Creation
2nd Place Judges Award
Team Members: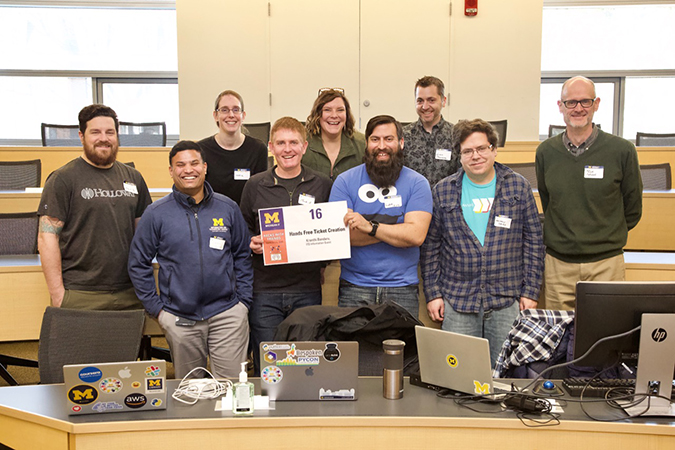 Kranthi Bandaru, ITS - Pitch Leader
Kevin Bechard, ITS
Mandie Chapman, ITS
Rick Getchell, ITS
Matthew Jones, ITS
Mark McManamay, ITS
Luke Palnau, Office of University Development
Rob Pfeiffer, ITS
Chris Rowland, ITS
Kristine Towne, ITS
I'm looking at exploring the options of improving customer support which involves any ITSM product.
From Michigan App or any standalone app on mobile, User speaks to the mobile device and says "Please create a ticket to ABC group" with the following description "Printer not working in Building X, floor Y, room Z"
Based on the input, the mobile app connects to TDX/ITSM APIs, and creates a ticket. This will improve the customer satisfaction and explore new ways of handling support.
Team 16 Videos: 3-Minute Pitch • 10-Minute Presentation to Judges
Team 1: UMichCTF
3rd Place Judges Award
Team Members:
Hugh Briggs, CAEN and ITS
Sam Brow, HITS/Michigan Medicine
Dale Fay, HITS/Michigan Medicine
Matt Janik, HITS/Michigan Medicine
Kesha Vardhan Kondam, HITS/Michigan Medicine
Keanu Lee Chip Sao, HITS/Michigan Medicine - Pitch Leader
Brett Miller, HITS/Michigan Medicine
Carlos Olivas, ITS
Jake Huang, Student
Finding and hiring the right skill for a role is difficult. A resume, even if written honestly and accurately, may not be sufficient to evaluate the skill level of a candidate. Second, we may not have a big pool of candidates with a desired skill when actively recruiting. Third, at times it seems that expensive training methods do not result in more skilled employees. Our solution: Capture The Flag (CTF) competitions! Organizations create a large number of "gamified" micro-challenges representative of skills they care about. Participants obtain points based on the number of challenges they solve. This allows us to train for skills we need, recruit top performers while increasing the number of individuals who have the skills. This project allows building relationships in our community. Finally, opening this platform to the whole state will enable us to serve the people of Michigan by providing free training.
Team 1 Videos: 3-Minute Pitch • 10-Minute Presentation to Judges
Team 10: MiPark - Michigan Medicine Parking Reservation System
Honorable Mention Judges Award; People's Choice & MacGyver Award (Public Voting)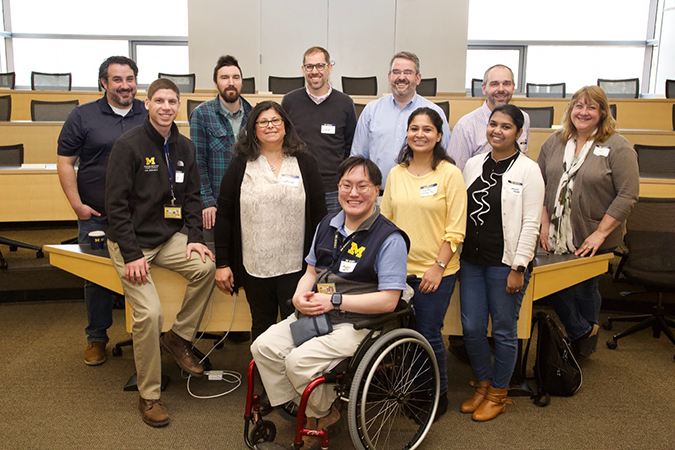 Team Members:
Amulya Kodari, HITS/Michigan Medicine
Swetha Kulkarni, ITS
Joe Lipa, HITS/Michigan Medicine
Sally Luoma, ITS
Leif Myklebust, HITS/Michigan Medicine
Jeffrey Rosczyk, HITS/Michigan Medicine
Michael Sheppard, HITS/Michigan Medicine - Pitch Leader
Andrew Staley, HITS/Michigan Medicine
Dan Stanish, HITS/Michigan Medicine
Leticia Valdez, ITS
Jared Walfish, ITS
Michigan Medicine (MM) patients and staff face the daily challenge of locating a parking space near the health system. The purpose of this pitch is to design and build a parking reservation system that will give patients the option of reserving a parking space prior to their arrival. The parking reservation system will ensure that patients have a specific parking space assigned and available when they arrive at the hospital system.
Team 10 Videos: 3-Minute Pitch • 10-Minute Presentation to Judges
Team 5: Salesforce Appointment Scheduler
HWF 2020 Collaboration Award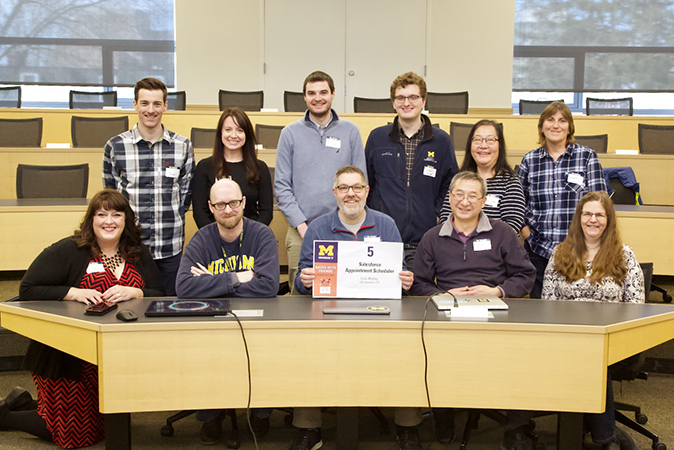 Team Members: Representing eight different units across Michigan IT
Scott Berkley, Office of Diversity, Equity and Inclusion
Angela Hall, University Career Center
James McLane, ITS
Cole Motley, UM-Dearborn ITS - Pitch Leader
Jeanine Novak, Ross IT
Ethan Savage, ITS
David Schmitke, ITS
Kristen Tranchida, Student Life Technology Solutions
Shelly Turner, ITS
Ryan Vis, ITS
Shih-Wen Wu, Rackham
Sinji Yang, LSA Technology Services
We will attempt to build out an appointment scheduling tool for students to book appointments with folks across the university. We will try to utilize Salesforce Communities and all the fun automation tools with Salesforce to complete this hack!
Team 5 Video: 3-Minute Pitch
The 2020 HWF Judges
Scott Arnst: Director of Information Technology Services, UM-Flint
Jeremy Nelson: Director, XR Initiative, Center for Academic Innovation
Kedra Ishop: Vice Provost for Enrollment Management, Office of the Provost and Executive Vice President for Academic Affairs
2020 Hacks with Friends Planning Team
Charles J Antonelli, LSA TS (Chair)
Tom Amerman, ITS
Christopher Visel, Ross IT
Joel Iverson, ITS
Sally Luoma, ITS
Joe Lubomirski, Dearborn ITS
Sheri Fillip, Ross IT
Chris Stockbridge, LSA TS
Nancy Herlocher, LSA TS
Kenny Moore, ITS
Create • Build relationships • Share your talents • Have fun