MSIS Hack Day 2014 was a great success!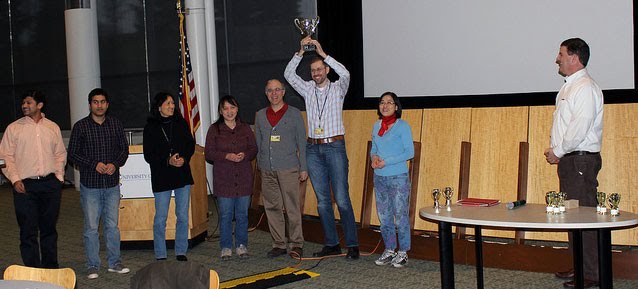 Thank you all for a wonderful Hack Day 2014. Once again, we were amazed and delighted by all the wonderful ideas, passion, and enthusiasm demonstrated by our hackers.
Hack Day II is the second incarnation of MSIS Hack Day—a fun-filled event where MSIS staff have 2 days to find a team, build a project from scratch to completion, and show it off in a final presentation. During our 2013 event, we focused on our customers with the theme "Our Customers are #1". For Hack Day II 2014, we asked MSIS staff to look inwards for hacks that improve our own products, processes, and services under a fun reality TV theme - The Real Hackers of MSIS.
Project categories were:
Hoarders – Hacks that help rid ourselves of technical debt, muda, inefficient processes
Big Brother – Hacks that help us collaborate better OR improve our security
Pimp My Ride – Hacks that turbocharge an existing product or service
Each category had a winner, with the very best hack winning the prestigious Hack Day Cup.
And the winner is....
In a very close decision by our judging panel, Project ALIAS (A Legacy IntegrAtion Service) took home the Hack Day Cup. The Project ALIAS team developed web services for four of our legacy applications. Serving as a link between old and new applications, this hack liberated the data contained in our older applications and created the potential to integrate them with new applications. The Project ALIAS team included Leif Myklebust (Project Lead), Siddhartha Dutta, Keshav Kondam, Hong Da, Charlene Tao, Bennett Stallone, and Mayumi Yoneta.
More Info
Read an overview of each of the completed hacks (login required) and the teams that worked on them. See a collection photos from the event.